Make the eerie night of October 31st even creepier by donning a spooky mani that will ward off the most scary of ghosts. Get creative and take inspiration from these Halloween Nail Art ideas.
1. Skulls
Without doubt, skulls are a must for Halloween – especially if you paint them on your nails. Start a black base coat and begin to create your skull using white as shown in the steps.
source instagram
2. TMNT
If you find yourself in need of a hero in a half shell then why not paint them on your nails instead. Start with a turtle green base coat and follow the steps in the illustrated tutorial.
3. Spiderman

A great mani to wear if your other half is donning a Spiderman costume and you can get away with not dressing up because your nails are already there.
4. Neon Spook
Neon colors work really well with a Halloween themed manicure.
5. Step by Step Skull
It's easy to paint a skull on your tips with this step by step guide.
6. 3D Ghost Face
Design some fearsome fingertips with the use of black foil gel to create the stunning £D effect ghosts on your talons.
source youtube
7. Minions
This is the cuter side of Halloween and a great one to paint your little minions nails.
8. Halloween Nail Art
9. Jack Skellington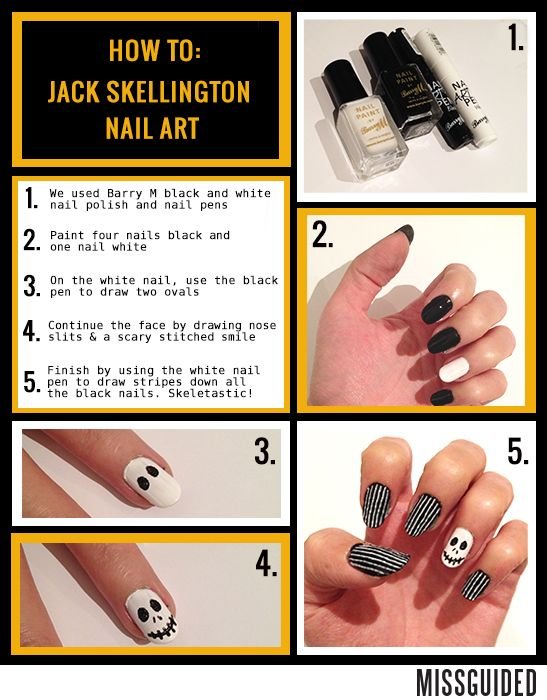 If you love the movie by Tim Burton then this is the mani for you. You'll need black and white nail polish and a fine tip brush. This nail art design is super quick to recreate and uses only a minimum amount of colors.
10. Haunted House
11. Spiderweb
Spooky spiderwebs look great on nails and go with pretty much any costume you have in mind.
12. Graveyard
Spook everyone out with these graveyard nails complete with eerie background skies.
13. Nightmare Before Christmas
14. Black & Orange Stiletto Nails
15. Fire
16. Orange with Black Spiderweb
17. Red with Black Spiderweb
18. Neon Zombie
19. Jack Skellington Nails
20. Space Nails
21. Halloween Themed Nails
22. Purple ombre
23. Spiders
24. Glam