Welcome the Trick-or-Treaters to your home with a stunning Halloween Wreath. Whether you want to go all out spooky with creepy bats and cats or just fanciful with shiny ornate pumpkins – there are plenty of ideas here for you to choose from.
1. Hocus Pocus Wreath

Channel witchy vibes with this black vine wreath featuring a broom and shiny orange spiders. The ornate ribbons really add a touch of glam that you will be proud to display on your front door.
2. Jack Skellington Wreath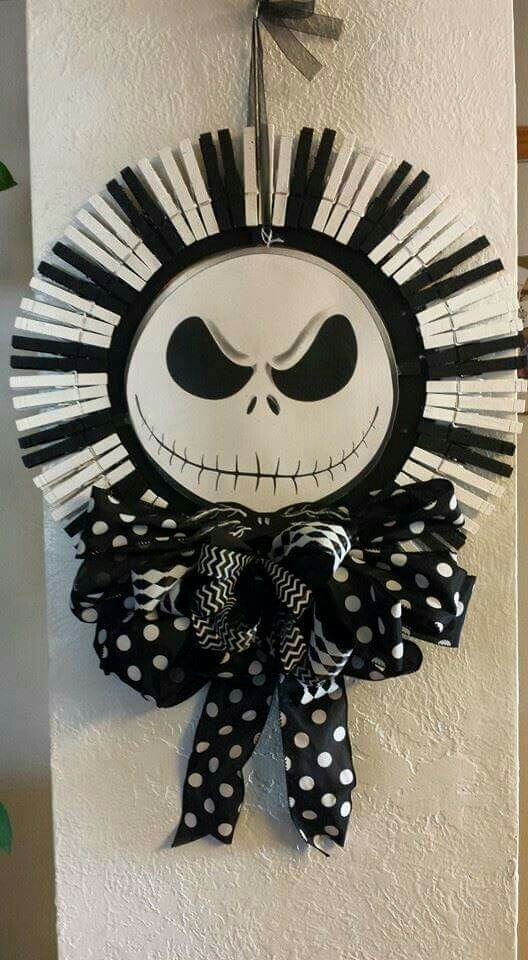 Make this monochrome wreath by painting clothes pins black and white and pinning them in a ring shape. Print out a Jack Skellington face for the center and add fancy polka dot bows to the bottom. This will look great anywhere in your home.
3. Lighted Halloween Wreath

Add a twist with the addition of lights to your wreath. You can use firefly lights to add the spooky glow to this rather macabre looking wreath.
4. Cat & Bats Halloween Wreath

Synonymous with the spirit of the night – cats and bats will awaken your inner witching powers. Take a white vine wreath and attach purple firefly lights to the back of it. Then you can add spooky bats and a cat.
5. Lighted Witch Cauldron Wreath

A mini cauldron tucked into a wreath adorned with pretty lights really makes this a feature piece for your door.


6. Spider Web

This is such a different idea for a Halloween themed wreath complete with a spider web in the center!
7. Cauldron Baubles

Double double, toil and trouble, add baubles to make that cauldron bubble. Purchase a plastic cauldron and cut it in half then glued Halloween colored baubles inside and around it. Add a sign saying "Spooky" and hang on your door.
8. Black Feathers

Honor Halloween's most classic color combination – black and orange with a Gothic flair : by lavishing a wreath form with black feathers and adding wonderfully glittery orange pumpkins to the mix.
9. Glitzy Halloween Wreath

Adorn a wreath form with shiny orange pumpkins and a spectacular tiger ribbon which adds a surprising twist to the decoration.

10. Mesh Wreath

Bewitch revelers with this enchanting wreath featuring a glittering witch's hat and purple, orange and green ribbon.
Source Mesh Wreath
11. Skeleton Wreath

To really harness the spirit of Halloween – it's imperative to add skeletons to your decor. This skeleton even comes complete with a top hat!
12. Gothic Wreath

Simple fabric flowers are added to a vine wreath to transform it into a spooky door decoration. The addition of cobweb and a mini skeleton really set the Gothic theme.
13. Lighted Jack-o Lantern Pumpkin Wreath

Adding orange firefly lights to a vine wreath are an effective way to recreate a Jack o Lantern idea.
14. Pennywise Halloween Door Wreath

Since the remake of the movie It – this clown is creeping everyone out again! To make this wreath, you'll need white, red and purple mesh and also a printed face of Pennywise, the clown.
15. Cat Wreath

To make this creepy cat wreath – you'll need black mesh, black felt for the ears as well as googly eyes and orange pipe cleaners for the whiskers. Finish with a cute orange and black polka dot bow.